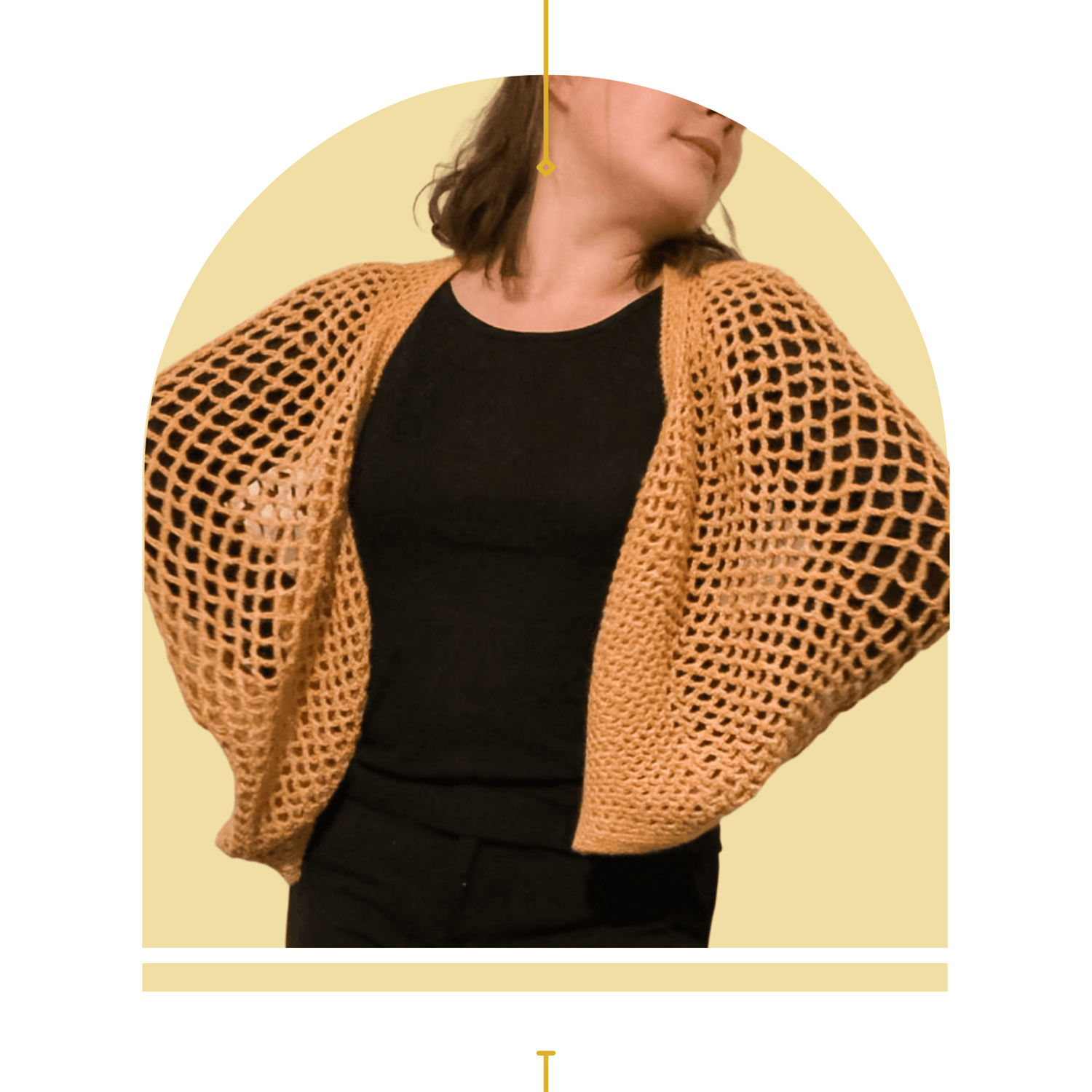 Castanet Cocoon Bag - Crochet Pattern
Pay what you want:
(minimum $6.99)
Get the FREE pattern in the standard adult size from Knotions Mag
---
INTRODUCTION
The
Castanet Cocoon + Bag
 is a multifunctional project - at once, a shawl to be your extra set of hands when needed. Worked as a simple rectangle, the shaping is entirely formed through varying the length of chains between single crochets according to a permutation of the Fibonacci Sequence, a mathematical principal prevalent in both art and nature.
Fibonacci Sequence: 0, 1, 1, 2, 3, 5, 8, 13, 21, 34, 55…
SKILL LEVEL: INTERMEDIATE
chain, single crochet, reverse single crochet, and short rows (with detailed instructions)
YARN
WeCrochet Kindred (68% Baby Alpaca, 32% Peruvian Pima Cotton; 115 yds [105 m]/50 g): Goldenrod (MC), 10 balls/skeins
HOOKS
US G / 4.00mm
US F / 3.75mm
*or sizes needed to obtain gauge*
OTHER MATERIALS
Wool needle
Stitch markers (4)
SIZING
Rectangle edge dimensions provided; expandable interior mesh varies with use.
Mini
(mi) - 24" x 7"
Midi
(md) - 29" x 8"
Maxi
(mx) - 36" x 9.5"
Mama
(ma) - 42" x 11"
MORE INFO
Instagram
@figandfilament @knotionsmag #castanetcocoonbag
Ravelry
beth-fig + Castanet Cocoon Bag Pattern
NEWS
To stay up to date on future news, follow @knotionsmag and @figandfilament on Instagram!
PERMISSIONS
Items crocheted using this pattern may be sold and distributed at the maker's discretion. If you make this item to sell, let me know so that I can direct potential buyers to your shop. Do not mass produce designs created by me without written consent.
COPYRIGHT
Patterns and design documents as instruments of service are given in confidence and remain the sole property of Bethany Henderson / Fig and Filament, with full distribution permissions granted to Knotions Magazine. The alteration or distribution of this written pattern or any accompanying resource is strictly prohibited.
ID: kRNqt